Completed Models
Enjoy our gallery of completed model airplane photos. Submit your model airplane photo! Use the Disqus Comments Section below.
Here are some photos of the finished 1/48 scale Supermarine Spitfire Mk Vb Model Kit made by Tamiya Models. Tamiya makes very accurate models with parts that fit really well, requiring very little filler.
There is also no excess molding material (flash) to be removed. There is an enormous amount of detail molded into the surface. The panel lines are also realistically thin and recessed (not raised as in some older kits). These kits are truly a joy to build: the lack of fitting problems means the model goes together quickly, so you can move on to the fun part (painting and decaling) that much faster.
This model was photographed with a Nikon Coolpix 4300 digital camera in manual mode. The aperture was set to smallest setting (for best depth of field). The camera was positioned on a tripod to eliminate any blur. Note that the best camera angle for realistic photos is low to the 'runway'.
The model was placed outside, shaded from direct sunlight. The runway is poster board, with squares of scale size drawn and painted to resemble a tarmac of the period. The green 'field' in the distant background is lawn grass. (Learn more about photographing model airplanes.)

Below: Open cockpit door, with worn paint below it, due to pilot walking on the wing to enter the airplane.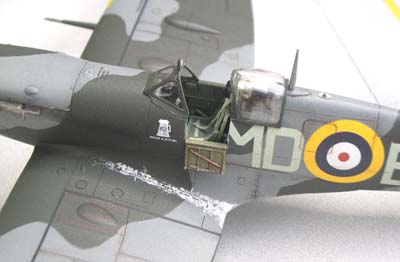 Below: Nostalgic photo created by selecting Grayscale option in Adobe Photoshop.

Below: 1/48 scale P51-D Mustang by Tamiya models. Covered in Bare-Metal Foil.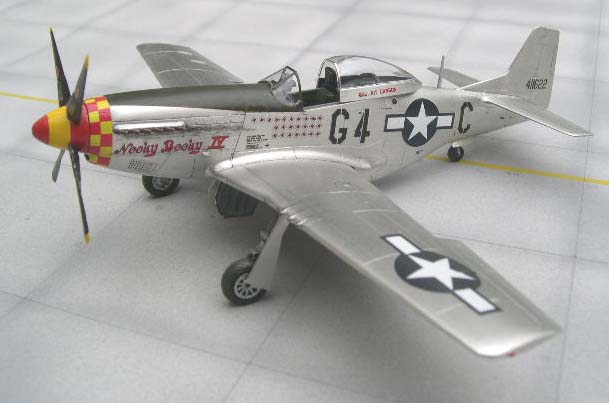 Below: 1/48 scale F4U Corsair by Tamiya. Airbrushed with enamel paints.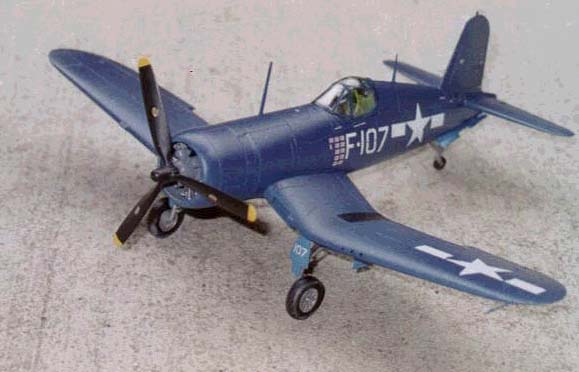 Below: Reader John S. from Puchong writes: "My first 1/32 model! its a Mustang from DML quite a decent kit - it's for sale anyway, any takers? :)"
John, excellent Mustang! We hope to see more of your work in the near future.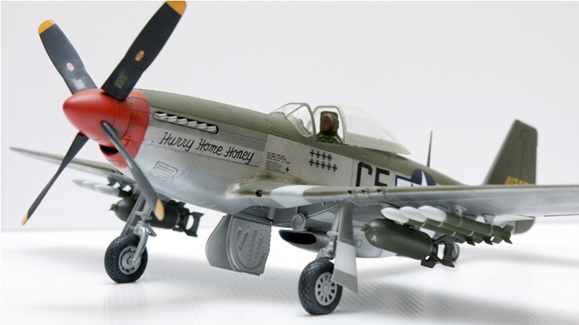 Below: Reader John S. from Puchong writes again: "hi..here's another of my model to populate your great site. Academy 1/48 MIG-21"
John, very sharp MIG-21! We love that airbrushed camo.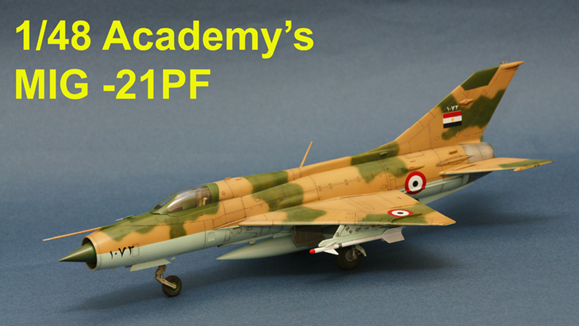 Below: Reader John S. from Puchong sends us another photo, this time of his Mirage III in 48th scale by HobbyBoss.
John, very nice work on the bare metal finish!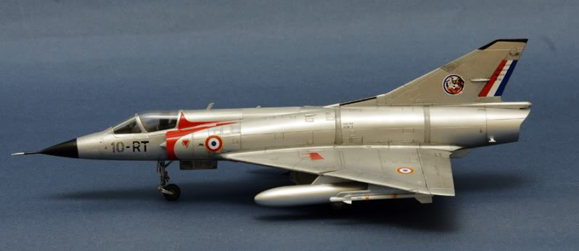 Below: John S. from Puchong sends us this photo, of his 1/48 Gloster Gladiator of the Chinese Nationalist AF in WW2. Kit from Roden.
John, excellent biplane, love that rigging!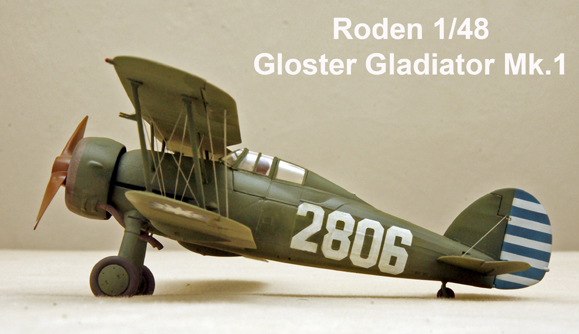 Below: Chalky Mik from Nottingham sends us this photo: "After 30 years of no modelling I have decided to give it another go. Here is my first kit since I was 15 years old. Nicely scruffed and desert sun damaged Messerschmitt BF 109. From a Revell 1:32 kit."
Mik, that is some great weathering on your Bf 109! Also love that sepia-toned photo, adds an extra touch of realism.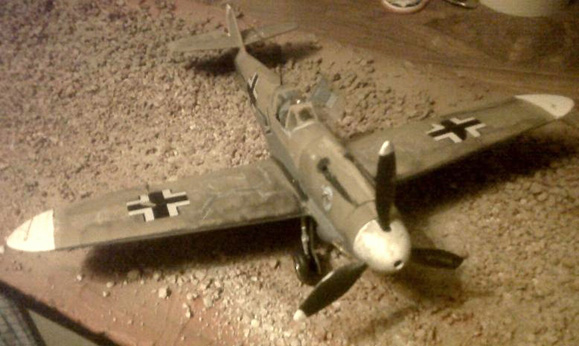 Below: Chris L. from Nottingham writes: "A 'snow cammed' Messerschmitt F, built from the revell 1/32 kit. After carefully painting the standard 'mottle' camo on, it was then sprayed with 'hair spray' then after around ten mins re-coated with white water soluble paint, 10 minutes drying time later, it was washed and scrubbed off to replicate a battered and worn aircraft used during the harsh winter months in Europe. (Snapped the aerial off moments before the pictures were taken....doh!)"
Chris, excellent winter camo on your Bf 109F! Thanks for the photo and tutorial.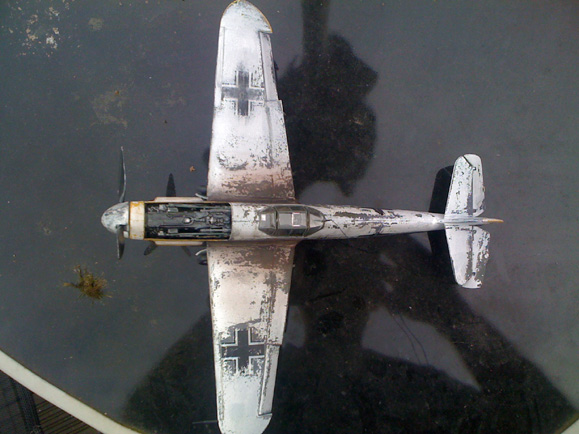 Below: John S. from Puchong sends us another photo, this one of the HobbyBoss MIG-17 of the Syrian Air Force.
John, another fantastic camoflage finish!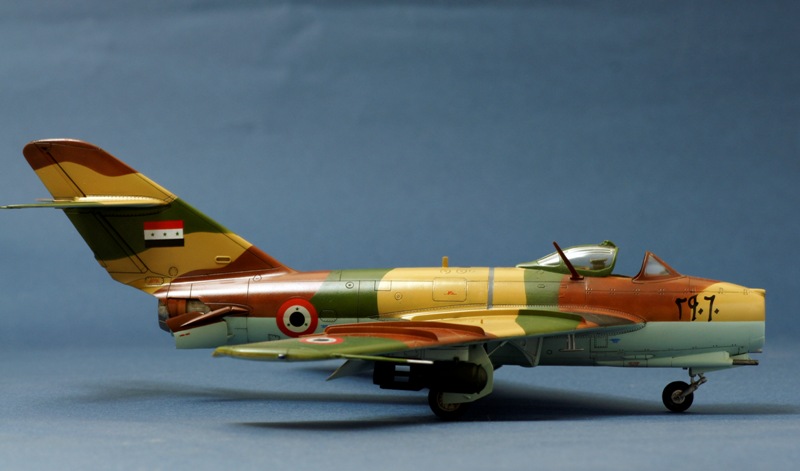 Below: Jimmy J. sends us these two (2) very realistic photos. "...I hang the models on thin Nylon line, which --if you're lucky -- you cannot see. I put a small electric Motor inside to get the Prop spinning, that's all. Main thing, you have to take the Photos OUTSIDE, so you have natural light."
Jimmy, great models and photography, thanks for sharing!
1/32 Scale P51 Mustang "Petite 2nd".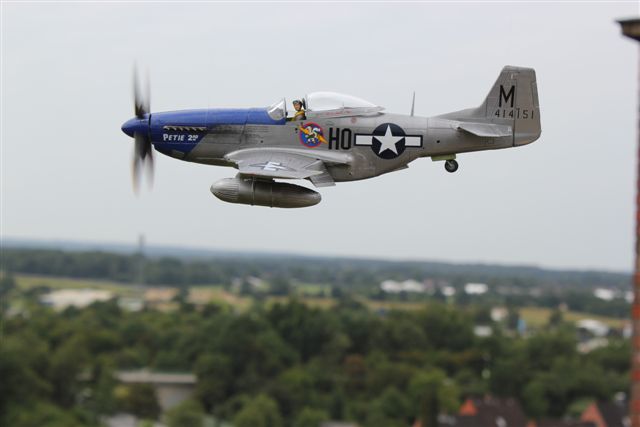 1/24 scale kit from Trumpeter, of P51 "Nooky Booky".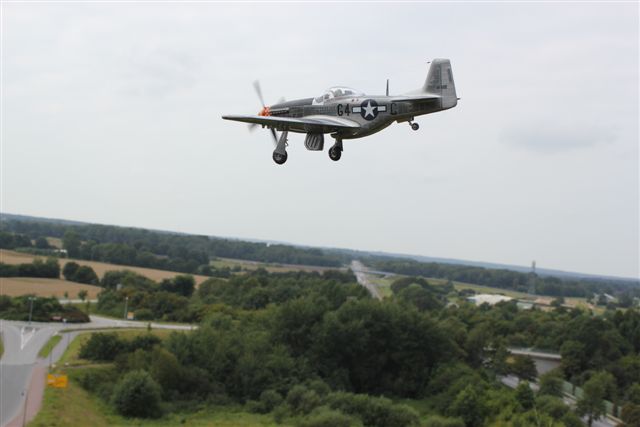 Below: Jordan S. sends us this photo of a B17 on a mission with fighter support. "The kit is a Revell 1:72 scale B-17f Flying Fortress. This was a very cheap kit; i found that most of the pieces wouldn't fit together properly but i managed to get past that by using putty to fill the many gaps. I painted the silver and red with masking tape and an air gun. I was planning to use the tips on your website about washes; but this model had all raised panel lines so i chose to just use chalk pastel dust around the engines to show the direction of airflow. I used earth coloured chalk pastels such as brown, red and black. I looked at many pictures of B-17s in the european theatre of WWII so i could get the weathering just right."
Jordan, the weathering is stunning, great job!
Below: Jordan S. from Sydney sends us this photo of a Revell 1/48 scale DH.98 Mosquito. Jordan writes "This was a great kit! all of the parts fitted perfectly. I coated all of the pieces with black before i began which gave the aircraft a darker finish which adds to the weathering. A few days after i painted the camouflage with an air gun i carefully applied paint thinner with a paintbrush in the direction of airflow, creating a faded paint look. I used two washes; the first was a mix of brown and black chalk dust with detergent and water i applied this mix over the whole aircraft, after the wash had dried i used a damp paper towel and wiped in the direction of airflow. After that wash a second wash made up of only black chalk dust was heavily added to panel lines and around the engine cowling."
Jordan, another fantastic model, thanks for sharing!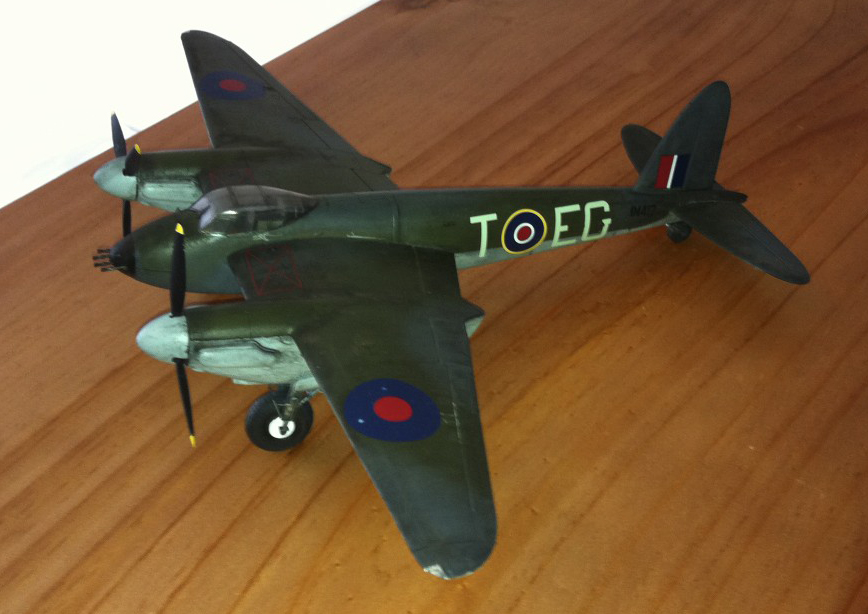 Below: Gene S. from Reisterstown send us a photo of this large size model. It's a 1/18 scale P-51 Mustang "Quick Silver" flown by Scott "Scooter" Yoak. Model is from 21st Century Toys.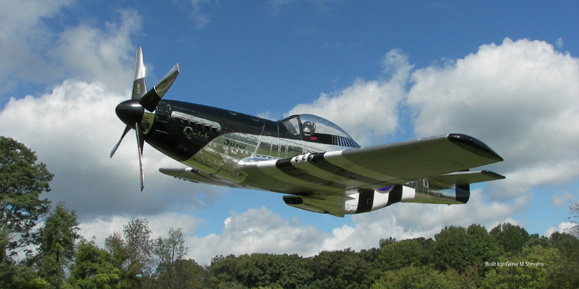 Below: A reader from Melbourne submits this prop airliner, a DC-3 in TAA colors, circa 1960. Fantastic job, especially the weathering on that engine! And great photo. Kit from Revell.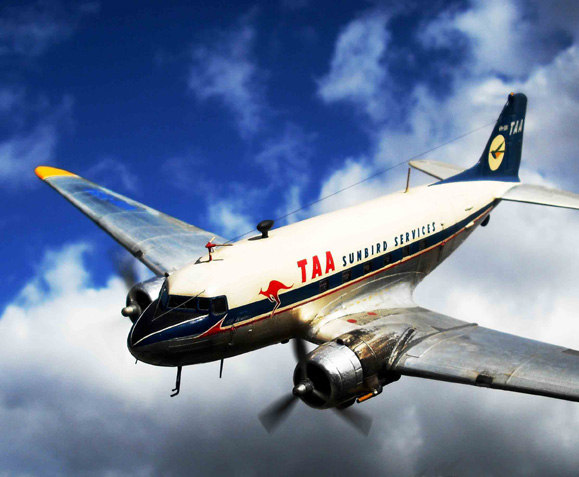 Below: Heinz J. from Rendsburg Germany submits this photo. It's a P-51D Mustang "Blondie", with a small electric motor turning the prop. Kit from Tamiya, 1/32 Scale. Great job, Heinz, love the inflight photo!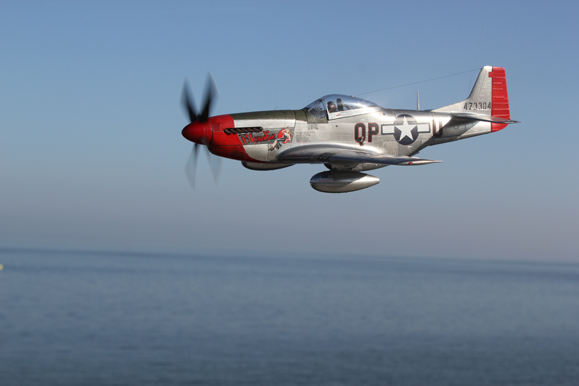 Below: A reader from Melbourne submits this prop airliner, an Ansett ANA DC6-B, circa 1960. From a Heller kit, with hand made decals. Another great inflight photo!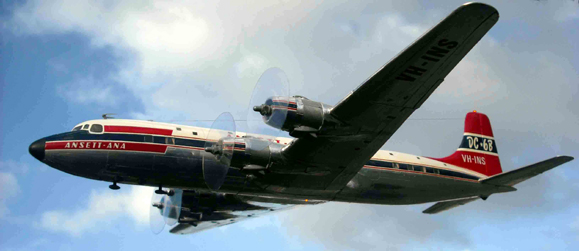 Below: A reader from Melbourne submits this prop airliner, a Fokker F27 in TAA colours. From an Airfix kit, airfix decals.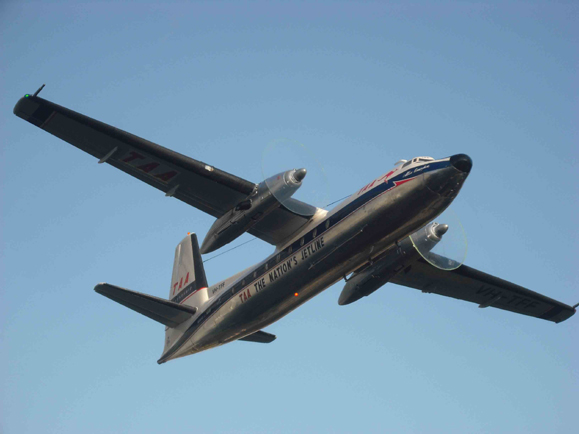 Below: A reader from Melbourne submits this photo, of the 5,000th production model of the P-38 Lightning, "Yippee". From the Airfix kit. Love those spinning props!
Below: A reader from Atlanta submits this model of a private airplane, a Cessna 172 with registration for a fictional country. The second photos shows a view of the cockpit with papers in the seat. "The kit is Minicraft Model Kits number 11635, 1/48 scale. The paints I used were Testors 1116 Cream, and Polly Scale F505278 Imperial Japanese Navy green. The tail decals are from Revell kit number 85-5201, a 1/48 scale Huey Hog, and the prefix in the registration (as well as the entire number) is for a fictitious country, also Minicraft decals from both that kit and another same-scale Cessna 172."
Nicely done!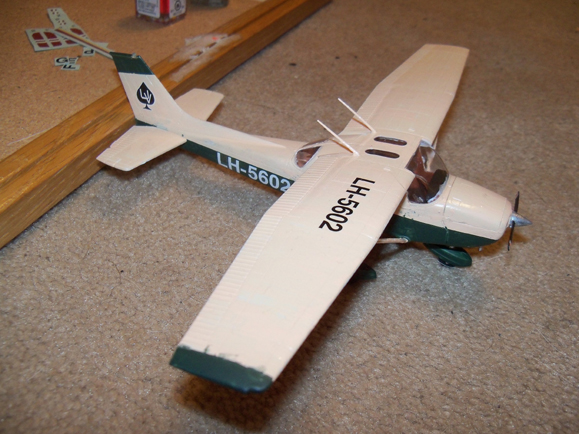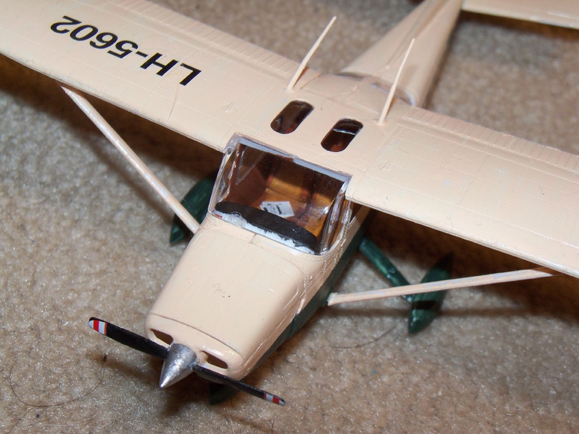 Below: Our regular contributor from Melbourne writes: "Hasegawa boeing 727 in Trans Australia colors, decals were silkscreened in the TAA sign shop using the original colors, I worked with TAA for many years....cheers"
Now we understand your passion for the subject! Another fine model.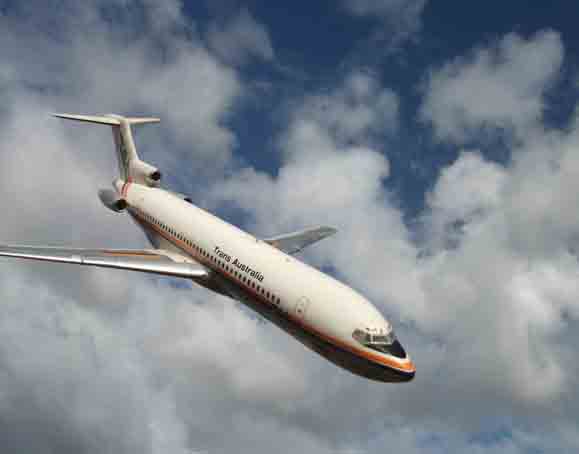 Below: Reader Kyle M. from Atlanta sends this photo of a Bf-109. "The paints I used were DupliColor WP102 Graphite, Testors Flat Black, Metallic Silver, and Rust (for the interior). The plane is a Revell 1/48 scale Messerschmitt Bf-109 G-10, and the wing decals are from another Revell kit, a Bell 206 Jet Ranger helicopter. I painted it to look like a Reno racer."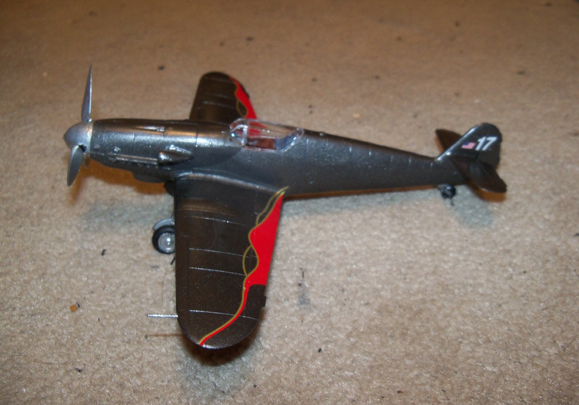 Below: Our TAA fan from Melbourne submits this photo, of an Airfix Bistol Superfreighter kit, converted to a mk21.
Love those lights and spinning props!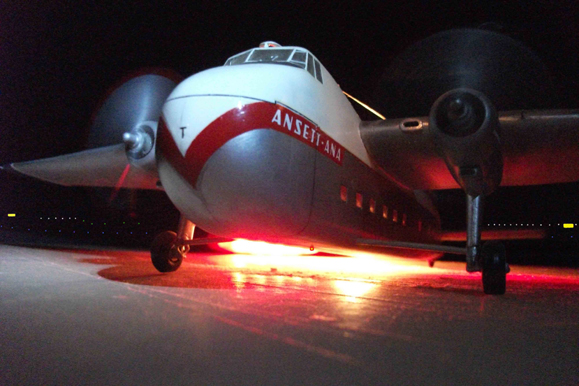 Below: Reader Russell W. from Jakarta writes: "Hi, my name is Russell and I am 14 years old. This is my first project with the help of my dad. It is a 1/48 scale F4U-Corsair from Academy. It is stock and I used a Navy Blue Tamiya spray paint for the base coat. For weathering, I used the Tamiya Weathering Master and finally I sprayed over the whole model using a semi-gloss Top Coat from Mr. Hobby."

Russell, fantastic weathering job!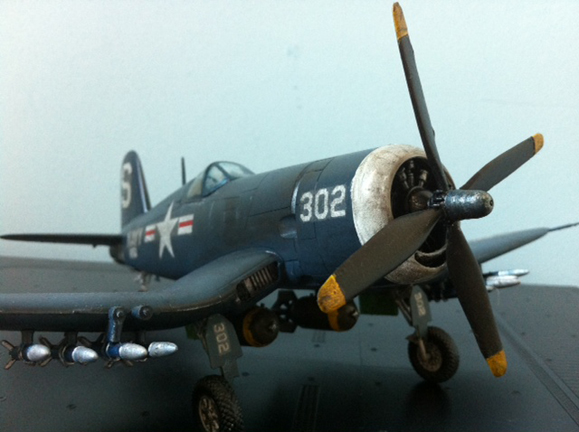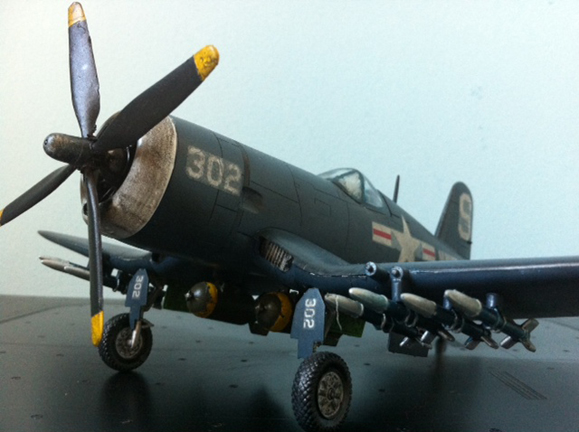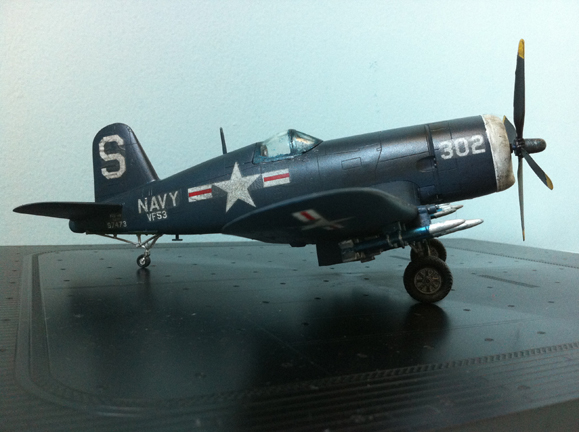 Below: Another ultra-realistic photo from our fan in Melbourne. 1/48 Testors kit of a Gates Learjet. You can almost hear the engines!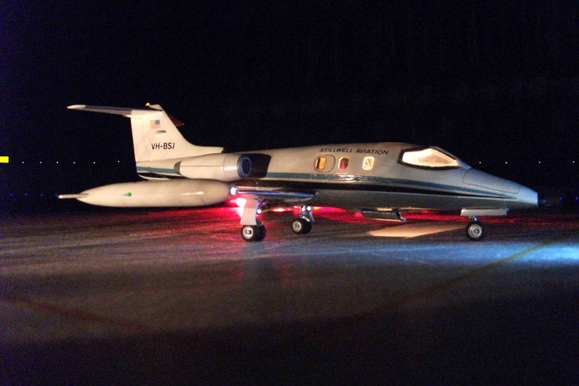 Below: Reader John M. from Valletta, MALTA writes "My almost finished bf 109e, 1/48 from Accademy, Heinz Bar aircraft white 13. This is my first attempt at modelling after 23 years of time taken off from model making,and I must say the modelling world has changed a lot from back then. I used Vallejo Model Air paints on this kit. Hope you like it ......."
John, nicely done, welcome back to the hobby!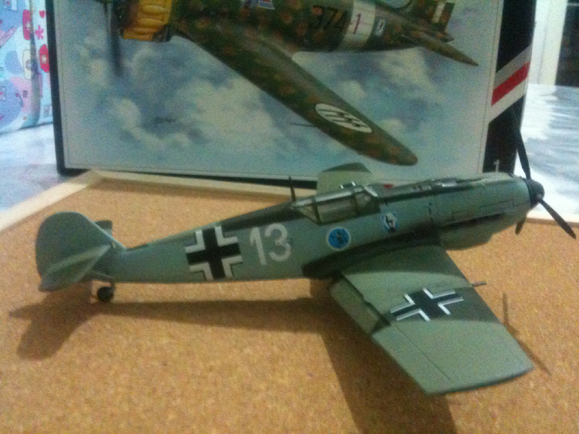 Below: Another great airliner photo from our fan in Melbourne. Airfix 1/144 scale kit of a Qantas 747-238b, vh-ebb City of Melbourne.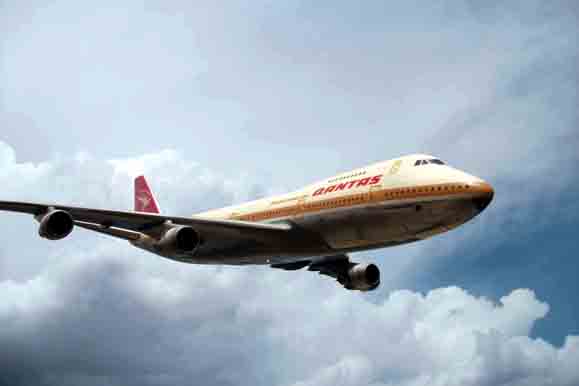 Below: Raoul D from Brisbane sends us this photo. "One of the old Airfix Meteors finished as an aircraft from 77 Sqn, RAAF in the Korean War."
Excellent work, Raoul!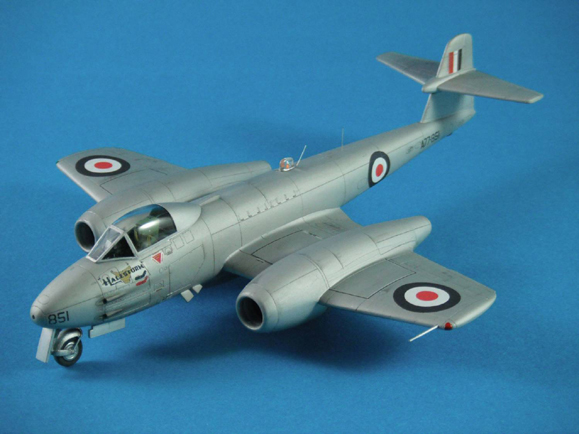 Below: Raoul D from Brisbane sends another photo. "Academy 1/72 P-40N, finished as "Cleopatra III" - 80 Sqn RAAF."
Raoul, we love seeing these RAAF aircraft. Nice subtle weathering job!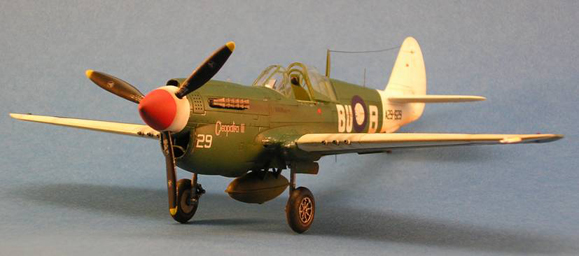 Below: The RAAF lineup continues, with a jet model from our fan in Melbourne. "Airfix 1/72 sabre kit in RAAF markings."
Nice Sabre!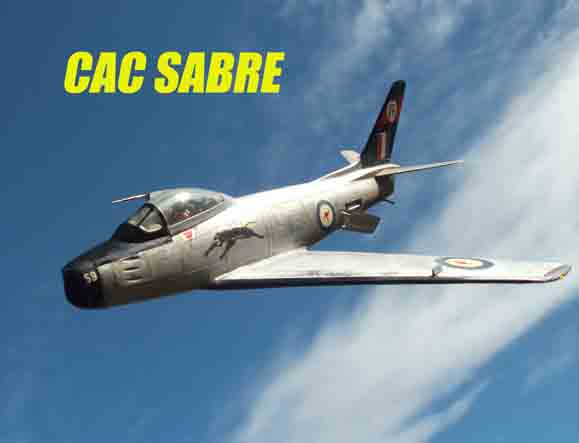 Below: More wonderful RAAF models, from Raoul D in Brisbane.
"Keeping with the 1/72 RAAF theme, here's an Academy P-40E that is showing the ill effects of having sat on an open shelf in the dust. It's a shame you can't see into the cockpit, as the pilot is harnessed, and is actually holding the stick. The prop didn't come out as well as I would have liked, but it's given me the lessons for next time!"
Raoul, fantastic P-40! Love that touchdown diorama.
Below: Also from Raoul D. "Some more 1/72 RAAF for you. A Hasegawa Mk.VIII Spitfire. The problem with photographing a little 1/72 model this close, is that it really shows up all the flaws that you never knew were there..."
Raoul, we're not seeing any flaws, great work!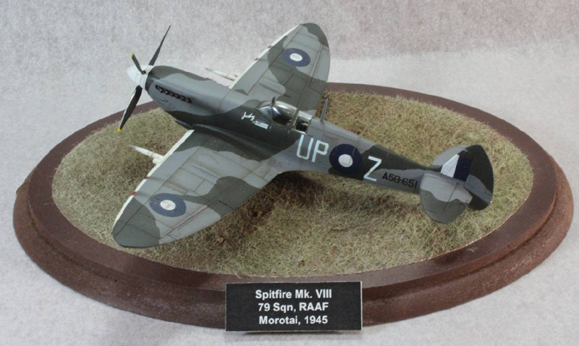 Below: Another great model from Raoul D. "A bit of an uncommon one. One of the chunky old 1/72 Matchbox kits of a Norseman finished as in RAAF service. I had to mask and spray the fuselage lettering - which was a bit of a learning experience! It lives on an open shelf in the dust, and unfortunately, I managed to knock off some of the little scratch-built details when dusting it for the photo - Oh well..."
Raoul, nice unusual subject, well executed!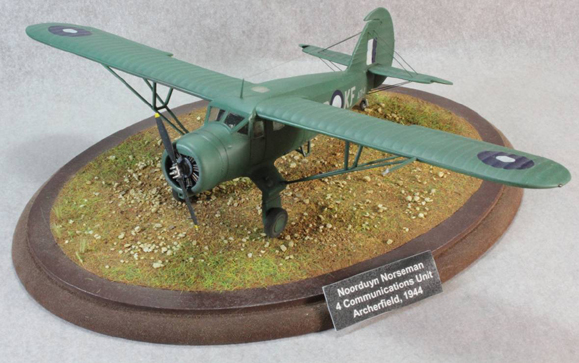 Below: Another from our fan in Melbourne. Revell kit of Boeing B-17F, starting up to depart on a dawn raid.
Excellent night scene!
Below: Another from Russell W. in Jakarta. "This is a 1/32 scale of a French built World War One (WW-1) Nieuport 17 by Academy. It is a stock model and I do not do much weathering on it. I took some photos of the Nieuport on a diorama that I have made for a separate school project."
Russell, excellent biplane! The diorama adds great ambience.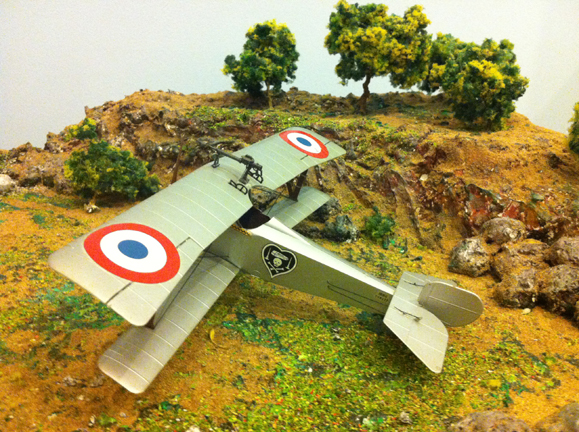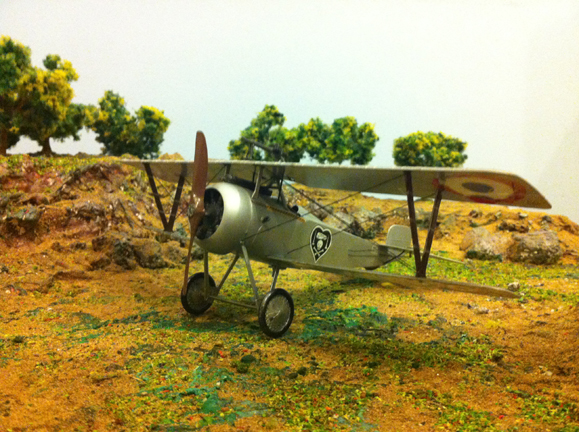 Below: Another from our fan in Melbourne. Revell kit of a Douglas DC-9 on final approach.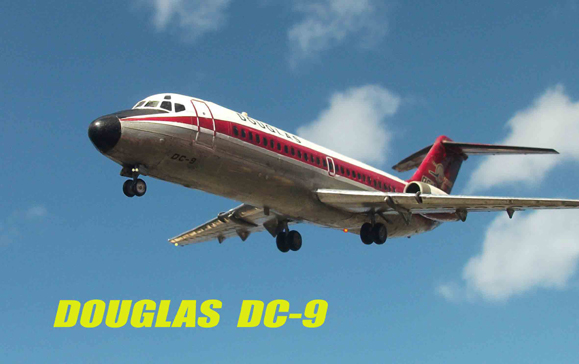 Below: Another from our fan in Melbourne. Hasegawa kit of a Lockheed Neptune in RAAF colours.
We love the flight crew in yellow, nice detail!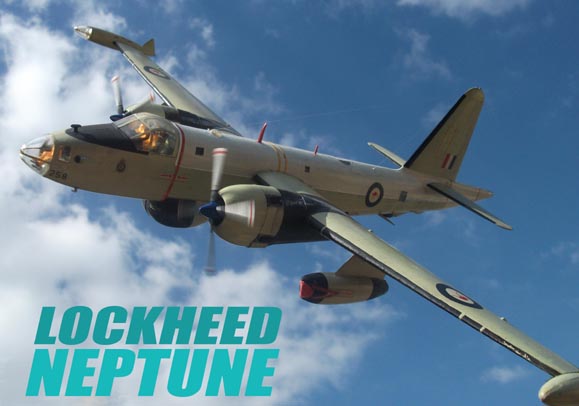 Below: Another from our fan in Melbourne, this time a 1/32 scale helicopter. "Something different the italaerei testors bell jetranger."
Awesome night flying scene!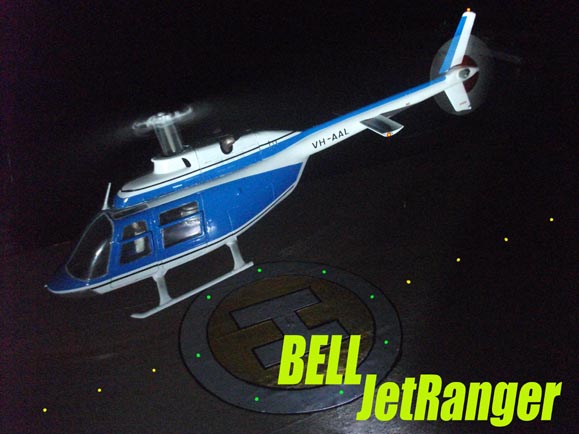 Below: A reader from West Jordan submits this photo of a Zero. "Thanks for all yours usefull advises was a great help. this is my first model airplane after 35 years..."
Welcome back to the hobby! Keep the models coming.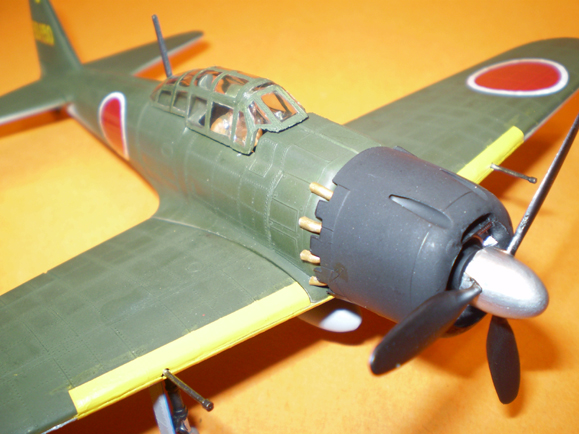 Below: Melbourne checks in again, with another multi-engine prop plane, in TAA livery: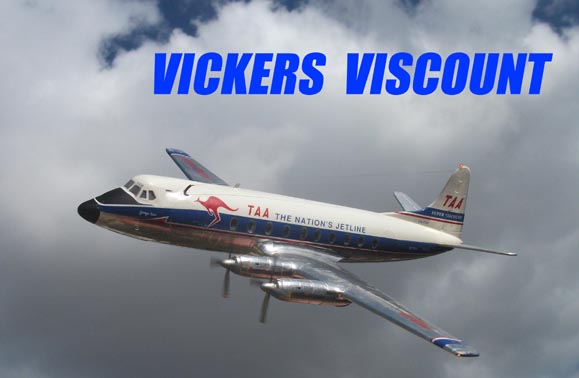 Below: Raoul D. writes again from Brisbane: "Sometimes we obsess over detail too much and the fun factor can drop a bit - or at least it does for me sometimes. So to overcome this, I decided to do a quick and easy build of something cheap and nasty, deliberately avoiding detailing unless absolutely necessary. The cheap and nasty I chose was an old 1/72 Matchbox Mirage IIIC (complete with panel lines wide-and-deep enough to lose a paintbrush in if you dropped it) . It was unavoidable that a couple of things had to get done, but they were quick and simple:
Trim tail from 'IIIC' shape to 'IIIO' shape.
Cut back intakes from 'C' to 'O' (not necessarily very accurately either.).
Reversed burner can so it protruded kind-of correctly and scribed some lines for petals.
Added small antenna on top of fuselage.
Added 'panic handles' on top of seat.
Added dodgy side panels to cockpit to fill vast empty space.
Shaped front portion of pitot.
I even opened up the slot to make use of the 1970s-obligatory 'in flight' display stand!
Certainly not a model to be hugely proud of, but definitely the 'fun' fix I needed to re-inspire me."
Raoul, very nicely executed!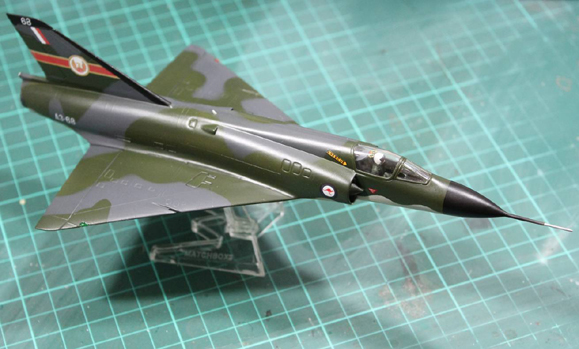 Below: Another from Raoul D. "Some more 1/72 RAAF for you. Academy P-39 Airacobra. This is one I made quite some time ago while I was just starting to learn some of the more advanced detailing techniques (as the lack of them on the model attests!). The P-39 didn't see combat with the RAAF, being used instead only for training, hence the decision to depict it with little wear and weathering."
Raoul, very nice P-39!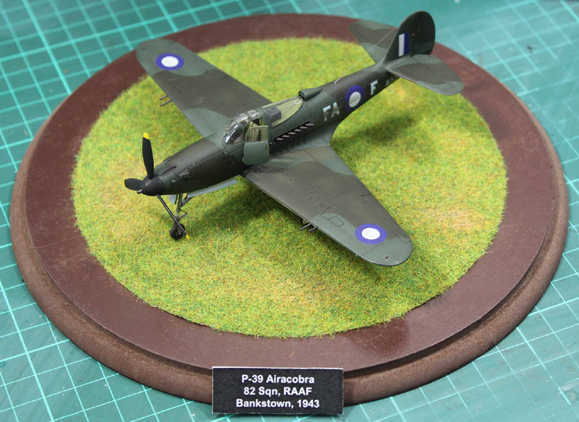 Below: Another from our fan in Melbourne. Airfix Avro Vulcan.
Well done as always!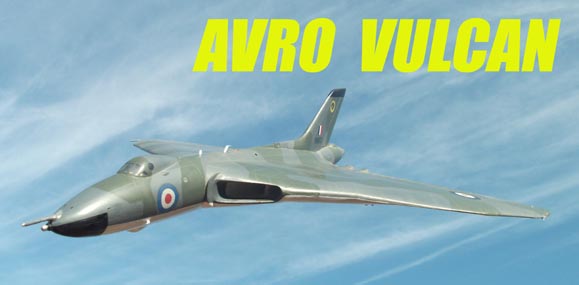 Below: A submission from Ron L. in Dallas: "This is the old Monogram 1/48 B-17G kit. The "Willy" Jeep is a Hasagawa, and the deuce and a half is the Tamiya kit.
I am 63 years old and just returned to modeling a few years back after a 40 year absence. I returned because my Dad was a bottom ball turret gunner in the B-17G-80 BO, serial number 43-38128. He was stationed in Eye, England and a member of the 8th Air Force, 490th Bomber Group, 849th Bomb Squadron. His plane occupied hard stand number 8. His plane was nicknamed "Bombo". On September 13, 1944, the plane was shot down by German aircraft. He was captured and remained a prison until liberated in 1945.
I decided to model the plane in a diorama depicting that day prior to their mission so that my Grandkids (and family) would never forget the sacrifice he and all participants of WWII made for our freedom. My nephew's son loves to hear the story over and over. In fact, the town in Germany where the plane crashed dedicated a space in their museum to the flyers. But that is another story.
I was able to locate the historian of the 490th who lives in England. He supplied me with a photo drawing of the plane. My attempt was to recreate the actual plane right down to the serial number.
I hope to redo this plane with the new 1/72 Revell kit just issued. I am afraid that a lot of mistakes were made with my first attempt in 40 years. Since I have made about 25 WWII planes since this build, my skills have been sharpened. In fact, I just discovered your website while doing a Goggle search for weathering techniques using hairspray.
You have a great site!"
Ron, fantastic diorama!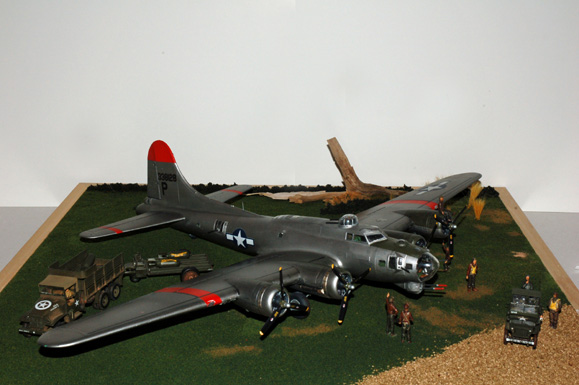 Below: Dave Gianakos in Littleton writes: "I have recently completed a makeover of an ESM rc 1/5 scale Corsair ARF to a museum-quality model depicting one of those flown by Lt. Bob Hanson, USMCR, Medal of Honor recipient (posthumous) in WWII. I did use many sources for details, including a 1/48 scale F4U-1A kit from Tamiya."
Dave, that rc plane is almost too beautiful to fly!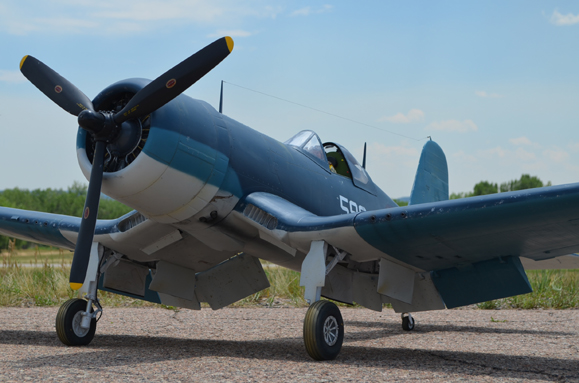 Below: Tony O'Brien in London submits this p-40 kittyhawk and a curtis hawk 81-a-2, 1/72 scale.
Tony, nice planes, and interesting diorama.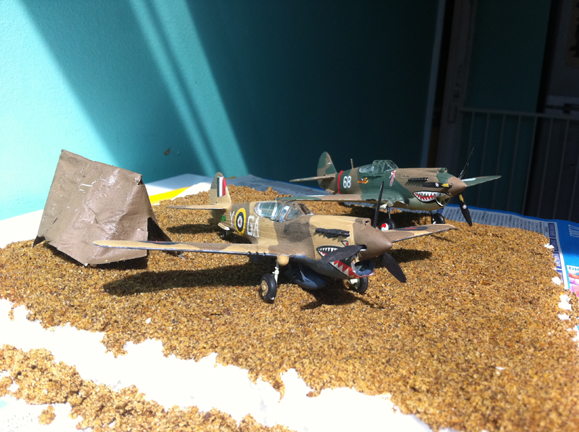 Below: Tony O'Brien in London submits this spitfire mk1a 1940, in 1/72 scale. "i didnt do the cockpit because im new to model building and built model as directed by instructions before i read online to paint before building."
Tony, nice Spitfire.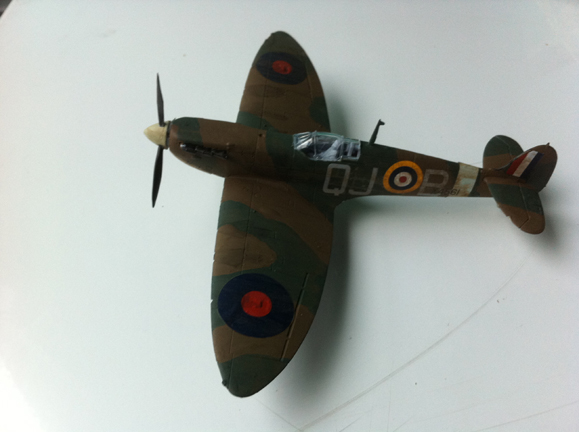 Below: Tony in London sends this hurricane mk1 1940, in 1/72 scale.
Tony, nice Hurricane.
Below: Darren in Melbourne writes: "First attempt of building and painting an F-86E SABRE JET".
Darren, very nice first attempt! Love that bare metal finish.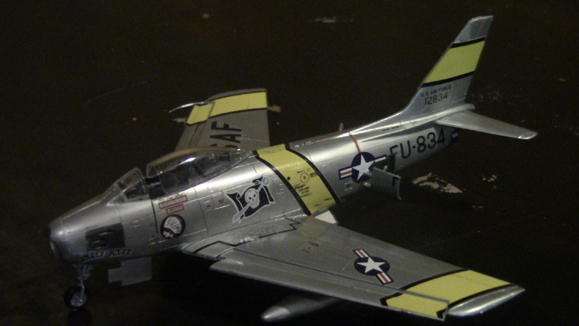 Below: From Joel R in Smithtown: "This is an original concept design and is a WWII type german fighter that I like to call the "Peoples Fighter". During WWII these "fighters" were built in secret by the Anti-Nazi German designers who built them to try and destroy the Concentration camps in Poland and Germany. As the time drew near for their first flight, the fighters and their hangars were demolished by Heavy B-17 Flying Fortresses dropping bombs, the Americans never knew that they destroyed the means to end the horrors of the Concentration camps earlier than the total collapse of Germany. The model is built with Balsa wood. Plans were drawn and the model was built and designed by me. The wingspan is 24", and it's a pusher type. If I get really ambitious one day I will build a much larger version and try to fly it."
Joel, very nice concept and great execution!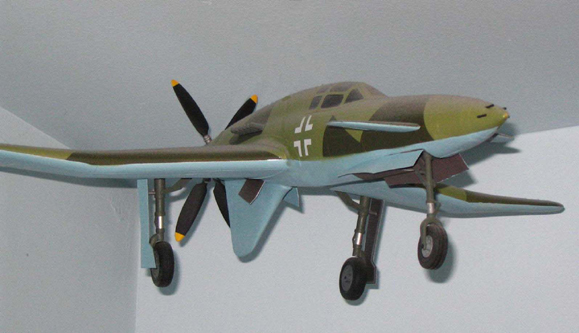 Below: Carlo from Cebu City: "Here's my Tamiya Aichi M6A1 Seiran in 1/48th scale.. built it entirely straight from the box and airbrushed with acrylics topped with clear coat."
Carlo, great looking float plane!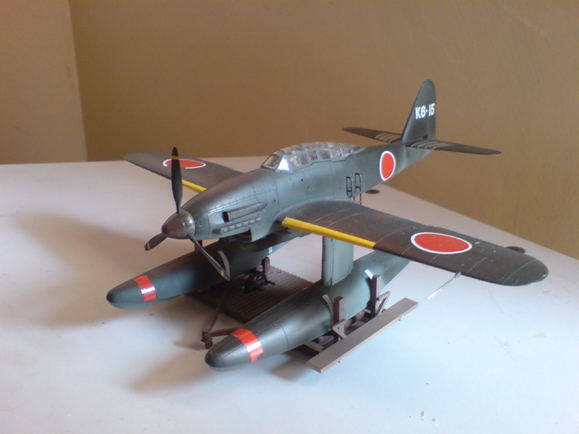 Below: Steve from Southampton sends this model: "1/48 Bell UH-1 "Huey Hog" from Revell. My first model since returning to the hobby after a 15 year hiatus. Didn't see a lot heli's on the site so i thought i'd share mine. Your site is loaded with great info, thanks for the tips!!"
Steve, thanks for the heli, very nicely done!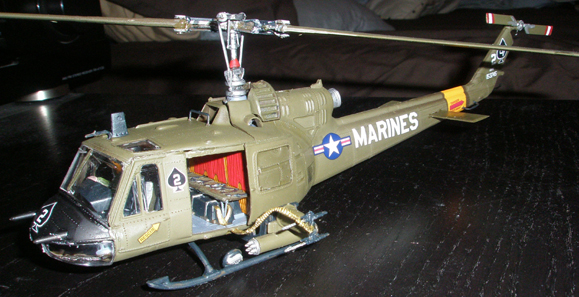 Below: Graeme in Melbourne submits another great one, a Minicraft 1-144 scale electra.
Graeme, another beautiful realistic scene, thanks for sharing!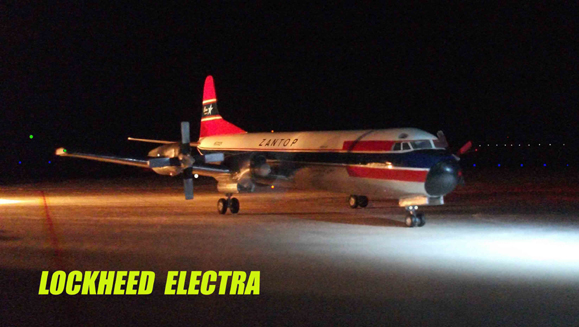 Below: Darren from Melbourne submits this A-7E Corsair 2, in 1/72 scale. "Scienceworks and Hayden's first day at school."
Darren and Hayden, great-looking Corsair!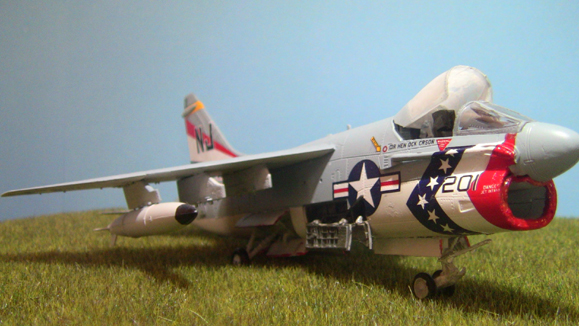 Below: Gabriel from Buenos Aires writes: "My first model in 12 years. It's a 1/72 P-51D from Academy with Tuskegee Airmen markings. It was a pretty good kit. All parts fitted quite well. After the silver/red/olive paint job, the model was washed with a brown/black pastel chalk/water mix to enhance the panel lines and to "age" the model. Then, after a flat clear coat, I brushed black pastel chalk dust on the exhausts and wings to simulate exhaust and gun smoke. The site's great. Thanks a lot for all those excellent tips."
Gabriel, very nice Tuskegee Mustang! The panel lines look great.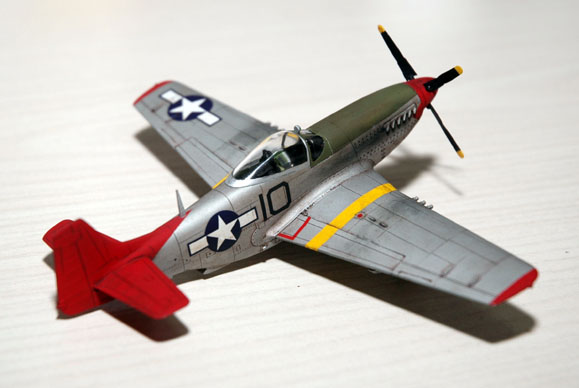 Below: Graeme from Melbourne continues to grow his collection of airliners. This is a Nitto 1/100 dc-8 super 62.
Graeme, love the inflight pose, and the bare-metal sections!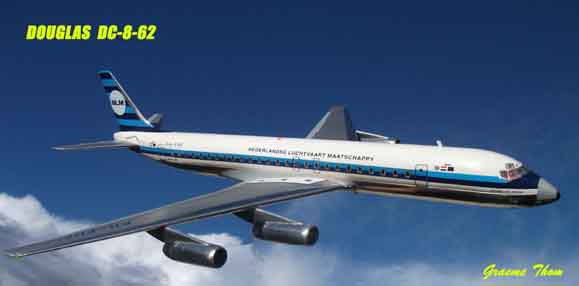 Below: Graeme from Melbourne sent us this Airfix Douglas Invader, converted to the On Mark Invader.
Graeme, another great realistic model!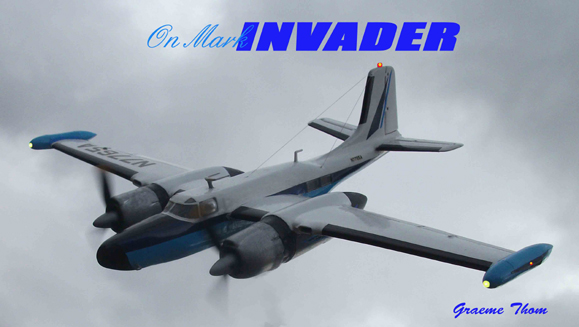 Below: Brent Chippendale from Liverpool sent us this model: "Revell Eurofighter Typhoon 1/48 Scale. Constructed and painted in German Squadron Detail. Over ninety piece kit with over 120 decals."
Brent, very nicely built and detailed Eurofighter!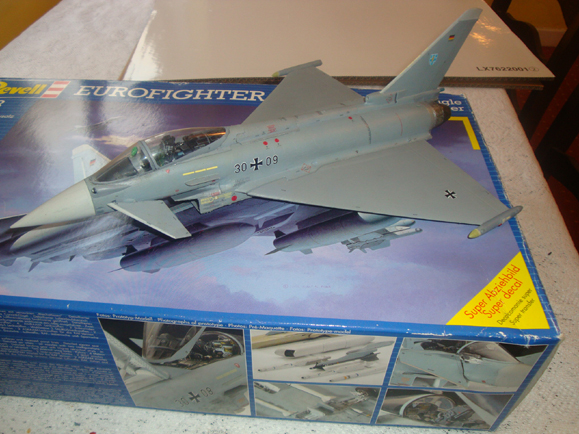 Below: Graeme from Melbourne checks in with these two photos: "hi....just made the airfix hudson.....hope you can use it.....cheers"
Graeme, beautiful model, diorama, and photos!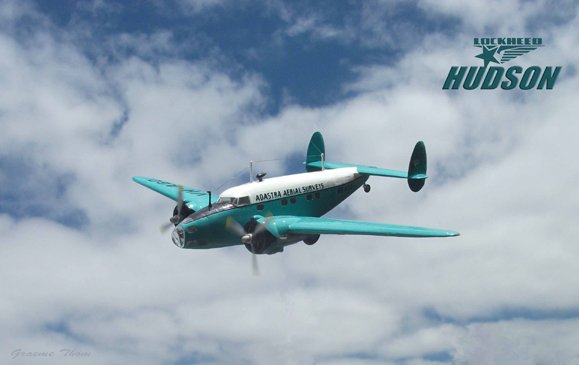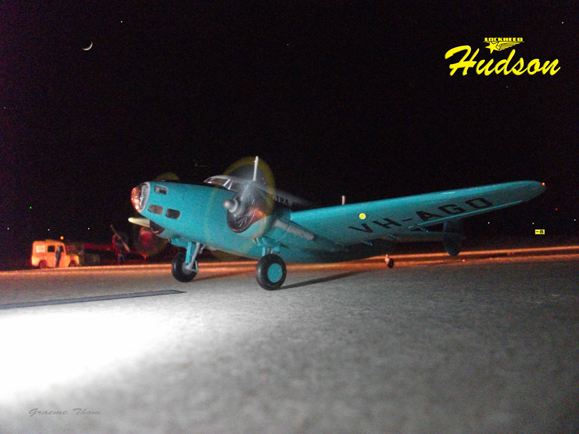 Submit your model airplane photo! Use the Disqus Comments Section below.
Send us your comments below! Login with your Facebook, Twitter, Google or Yahoo account.